It's Friday, ya'll!!
Linking up my Friday Letters with the fabulous Ashley, that super funny girl from the "Call Me Maybe" video I posted below.
Join the fun!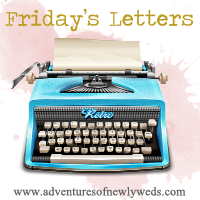 Dear Momma, It was so fun having you visit me for two days. I am so thankful I won an iPad, yes I won an iPad, and was able to give it to you! You were so happy playing around with your new toy, it brought tears to my eyes.
Dear Technology, you are so amazing. My momma made all my childhood videos onto DVDs then put them on a hard drive for me. That was incredibly special watching those tonight!
Dear Mochi, you are quite the cutest dog ever. You run so funny, I constantly threw the ball outside so I can see you waddle back to me. It's like your butt is too heavy and your back legs are too tired for how fast your front legs move.
Dear Magic Mike, you sir are going to be me summer hot guy movie. Maybe the best hot guy movie of all time. It blows my mind that it's actually coming out this year, I have been waiting for awhile for this!
Dear Blog Buddies, thank you so much for writing your weekly Fly Away Friday posts. I have thoroughly enjoyed reading each one! If you want to be added to the list, just sent me a tweet or email or facebook message, or snail mail or carrier pigeon my way.
Dear Pure Barre, I am so thankful you kick my booty and make me cry during class. This is no joke! But come summer, I will be thanking you EVEN MORE!
Happy Friday everyone!
Make sure you add yourself to my GFC to follow me daily:)

Other Posts You Might Love: