I am all for trying something new and different on the blog.
I love coming up with new ideas.
Not all of them work...but I always like trying.
This past month I have had the pleasure of having Tausha on my sidebar.
Plus she went through a major blog rehab this month...
She got a new blog design & got a new blog name!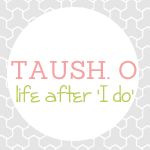 I will without shame admit that I had a blonde moment when I read her new blog name.
I actually said, "Tausha. O" over and over and was like...I don't get it.
I finally said, "OHHHH LIKE TOSH.O!!! I get it!"
Silly me.
So instead of doing a blog post asking Tausha questions, I wanted to do video questions!
Live.
Luckily I got to editing the video because there was 10 minutes of laughter and snorting on my part.
I hope you girls have fun watching and head over to the new Taush.O to say hi and give her some love.